Parking & Transportation
Parking at Stone Chalet
We recommend the you park your car on Berkshire which is the side street right next to Stone Chalet, 10 feet from the property. Berkshire has low traffic and provides you the easiest and safest access to your room. This is totally free parking.
What About This SIGN?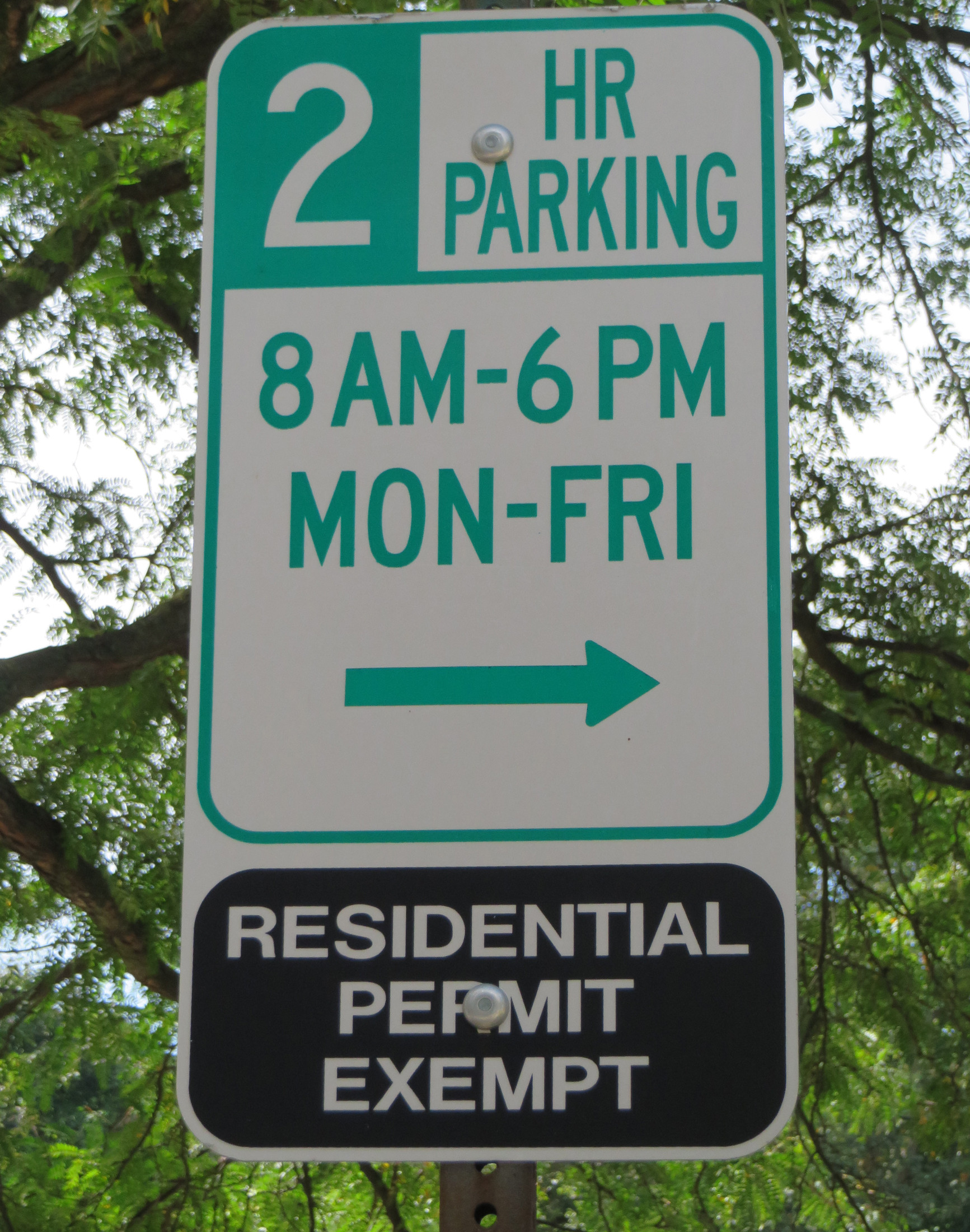 If you are parking your car for more than two hours on a weekday between 8 am and 6 pm borrow a parking pass for your stay.
If you are here for one night you probably don't need a pass.
The pass is not needed for evenings or weekends and you can park for up to two hours during the weekday without any trouble.
It Is SAFE!
Street parking is normal here in Ann Arbor. Even local residents use the parking passes and park their cars on the street. That's where we park too. Yes it is safe!
The driveway is not available. You will be safer parking on Berkshire and access to your room is far better on that street.
Park Your Car on Berkshire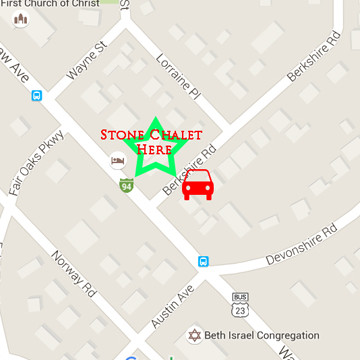 ---
Need a Ride From Detroit Metro Airport?
Ann Arbor Metro Airport Shuttle
Ann Arbor Metro Shuttle (734) 507-9220
Eddie is the owner and driver of this business. He's a very nice person and he and his wife will pick you up from the airport and drop you off at the door. He'll take you back too. Ask him for the special Stone Chalet rate.
---
Public Transportation
There are various way to get around in Ann Arbor, including buses, The Ride, and University of Michigan buses.
---
The Ride
Ann Arbor has a pretty good bus system that is underutilized. You'll probably always find a spot to sit. Go to theride.org for the bus routes and schedules. There are 2 bus stops on Washtenaw, one a block south and one a block north of Stone Chalet. This bus that stops near Stone Chalet is the Route 4 Bus – Washtenaw.
The bus stop heading out of town (south east) is:
Stop 3.5 W- Washtenaw Ave opp Wayne St. (#1184), which is a block north and across the street from Stone Chalet.
The bus stops heading into town are:
Stop 5.4 E- Washtenaw Ave north Devonshire (#1229), a block south east of us on our side of street.
Stop 5.5 E- Washtenaw Ave north of Wayne (#1230), a block north west on our side of street.
---
University of Michigan Buses
University of Michigan buses serving students and faculty of the University of Michigan.
---
Cabs
Blue Cab Company (734) 547-2222. They also have an airport shuttle service.
Try Lyft
Use the code STONECHALET. This promo code will grant any new Lyft user 2 free rides up to $10 each. The following link can be used:
https://www.lyft.com/invited/STONECHALET

The above link will prompt new users to enter their phone number and send them a download link with this promo code included.
Another way to share the code is to downloaded the app, then enter the code under settings, then "Promos" then "Add Promo code".
---
Train
Amtrak The train station is less than 2 miles from here.
---
Ann Arbor Transportation Guide
The Visit Ann Arbor website has a summary of transportation option to review. You can visit that site by clicking here.
Getting Here
Stone Chalet's address is:
1917 Washtenaw Avenue
Ann Arbor, MI 48104
We are located on the corner of Washtenaw Avenue and Berkshire road.
When you arrive, park on Berkshire and come to the side door marked "Reception." Give us a call and we will come and get you.
Do not use the driveway. Do not have the taxi driver drop you in Washtenaw because it is too dangerous. Park on Berkshire and come to the side door!
Directions by Google Maps: