Facilities Overview
Ann Arbor Event Venue
Did you know that Stone Chalet has multiple "event areas" that you can rent for your wedding, business meetings or parties? We can hold up to 100 guests per event.
You can reserve the entire complex or just one area for a special event weekend like a wedding or family reunion. Plan your event with us. Use this link to schedule a tour or discuss by phone. https://calendly.com/stonechalet/70min
Formal Dining Room for seated gatherings up to 30 people. Dinners, meetings, showers. Tables can be moved for small ceremonies.

Event Hall is the mid-century modern building off of Berkshire for parties and meetings. From 30 - 100 people.
Carriage House and Gazebo Garden combination.
Bridal Suite - get ready for your wedding here.
Any outside space.
We invite you to visit and take a look around to see if our place is a good fit for you.
Set up a visit or phone meeting here: https://calendly.com/stonechalet/70min
Fill out the event inquiry form here: https://gatherhere.com/inquiries/9ab0ct4c
Event Hall
Unique Mid-century modern facility
This is a mid-century modern building designed by University of Michigan architect George B. Brigham and was built in 1956 for the Unitarian Church. The hall is available for weddings, dinners, parties, movies, music, performances and meetings.
One hundred people can stand and mingle or be seated theater style in chairs. We've had a successful dinner party with dancing for 82 people. You may be able to add a few more with stage seating.
The main floor area is 1,209 square feet (39' long x 31' wide). The raised stage with the curved front stairs and curved back wall is 216 square feet (12' x 18'). The total is 1425 square feet.
On the Berkshire side are six large glass windows that lets in lots of light. Screened window shades may be lowered or raised. The ceiling is sixteen feet high with exposed beams.
This room is air-conditioned in the summer, heated in winter and there is a large ceiling fan to circulate air.
Special arrangements can be made to use the Choir Balcony for photography, lighting, music etc. but it is not open for general use.
Restroom facilities (men's and women's) are just outside the space and available.
Parking is on street. Arrangements can be made for valet service.
Fellowship Room
Public Gathering Space
The Fellowship Room is adjacent to the Event Hall and is the public gathering space and lobby for the Inn's guests.
It's the main entry for the Bed and Breakfast and also the Event Center.
This area can be included in your event rental.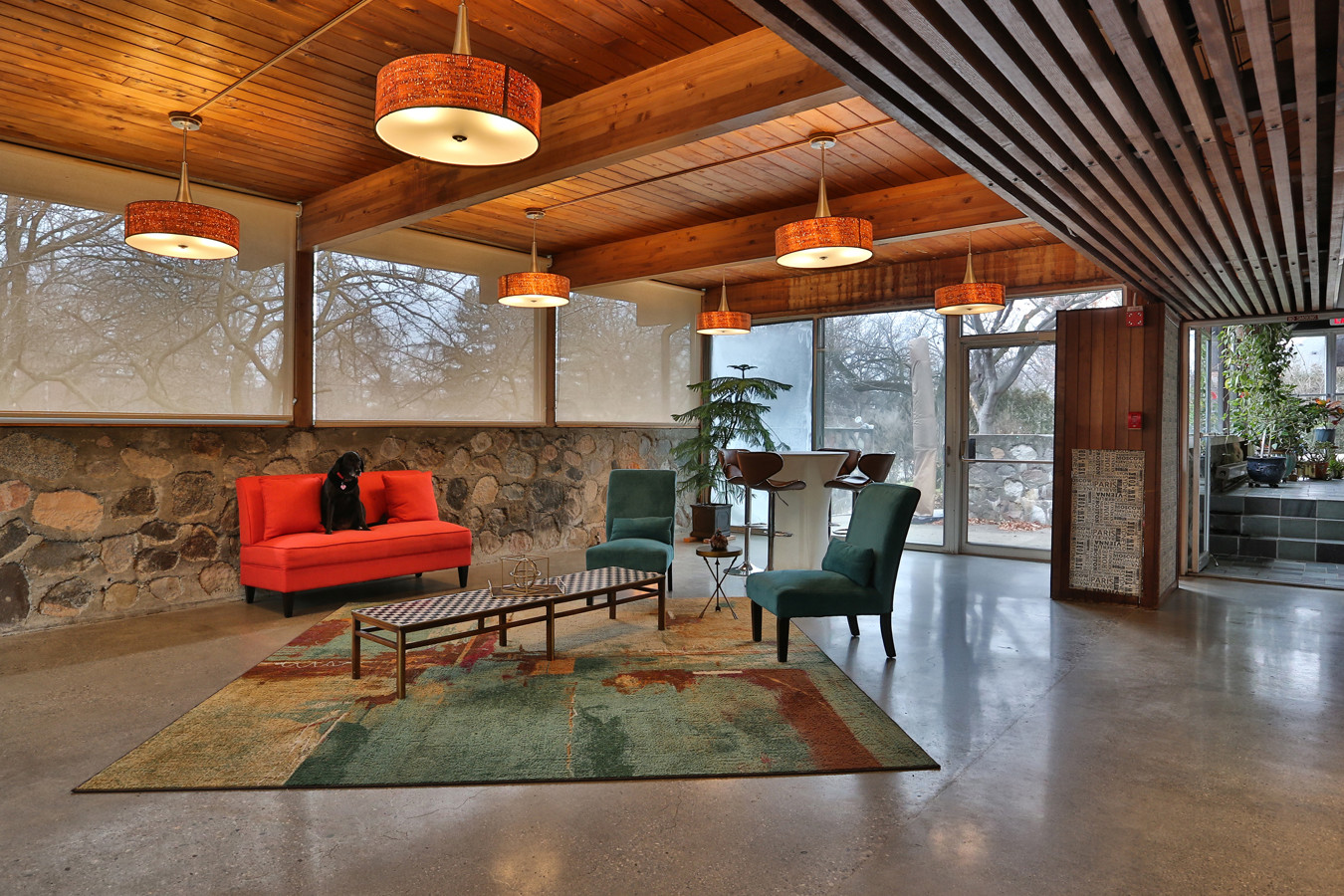 Fellowship Room in the Event Center Building
Bridal Suite
A Suite Place to Get Ready for Your Wedding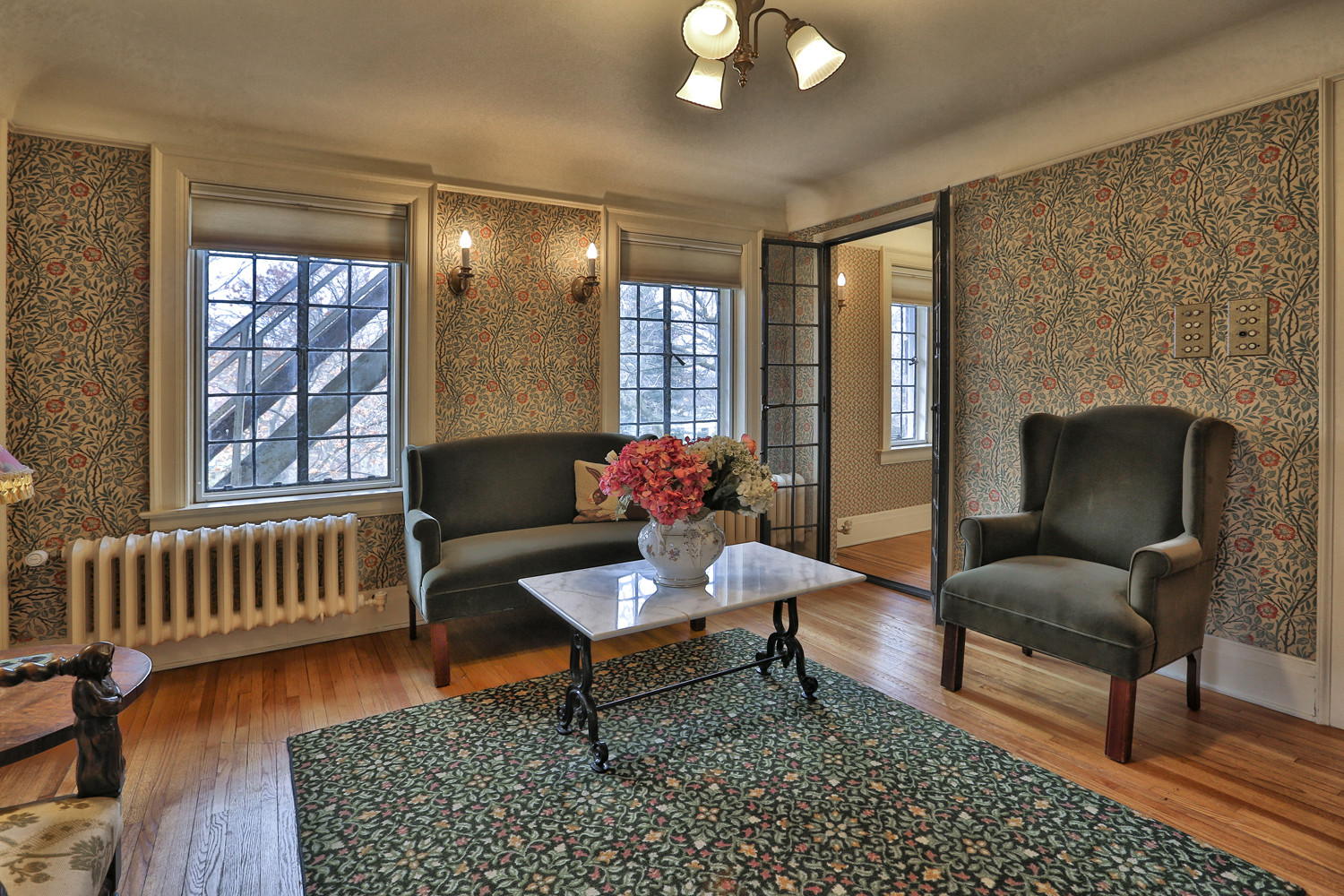 The Porch room can be opened into a suite of three rooms you can use for you and your wedding party to get ready for the wedding ceremony. There are several hair and make-up stations, chairs for relaxing (moms) and a mini-fridge we can stock with beverage service items. Contact the inn to reserve and for pricing.
Dining Room
Seats up to 24 Comfortably
The Bed and Breakfast Formal Dining Room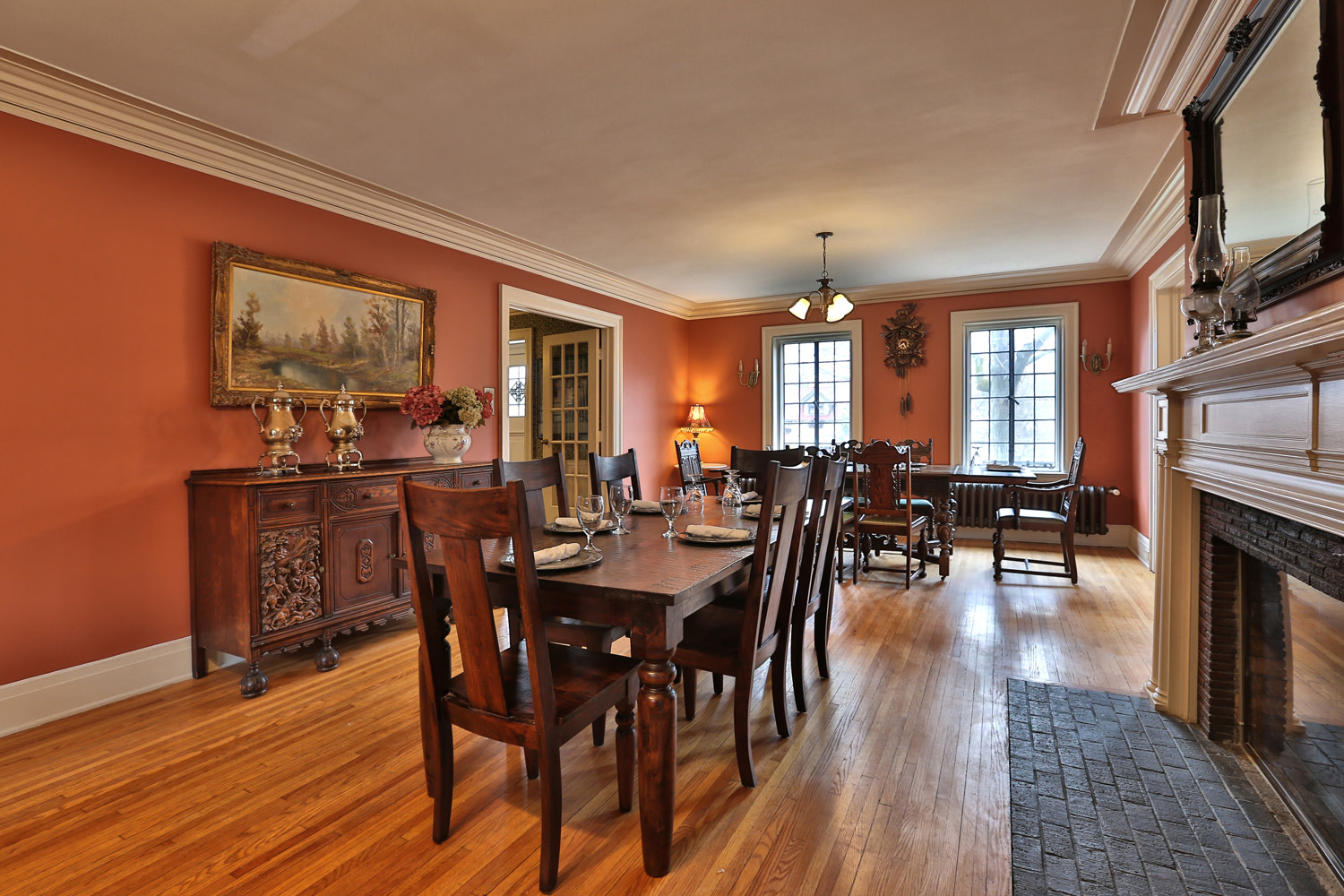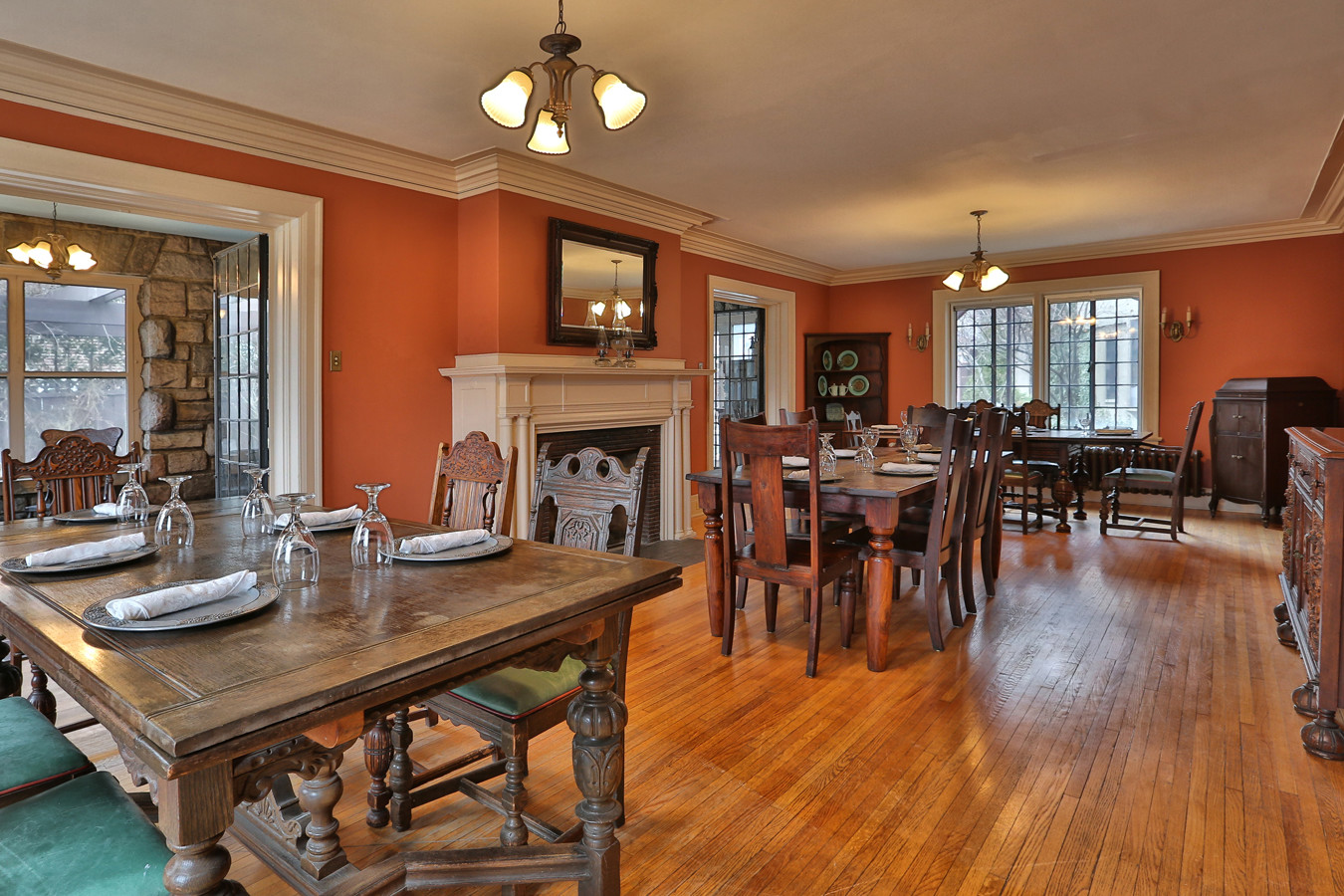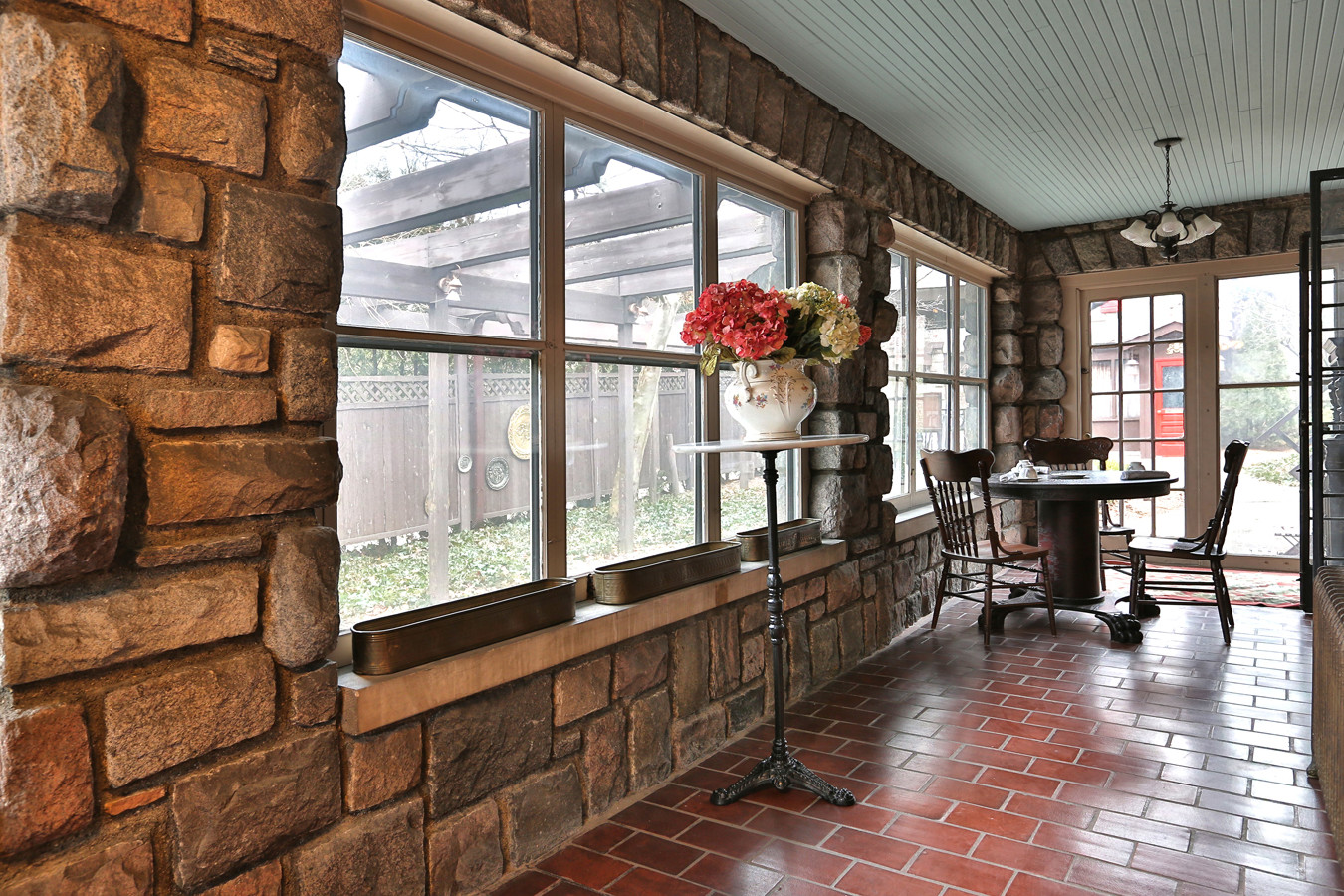 This room can be used for serving meals, an afternoon coffee or tea service, or a business meeting. There are four dining tables in the main dining room and the adjacent porch can be used for serving.
We can move the tables and open up the center area in front of the fireplace for a small wedding then move the tables back for dinner.
The dining room holds 20 – 24 people comfortable. Alternate table arrangements can be made to include a few more people if necessary.
The use of this room can include the china, glass, flatware, linens and clean up or you can use your caterer provided items.
This room is available from 11:00 am until the evening most days.
Additional tables and chairs and equipment can be rented depending on your requirements.
Gardens
backyard party for 100
Carriage House, Gazebo and Gardens
Carriage House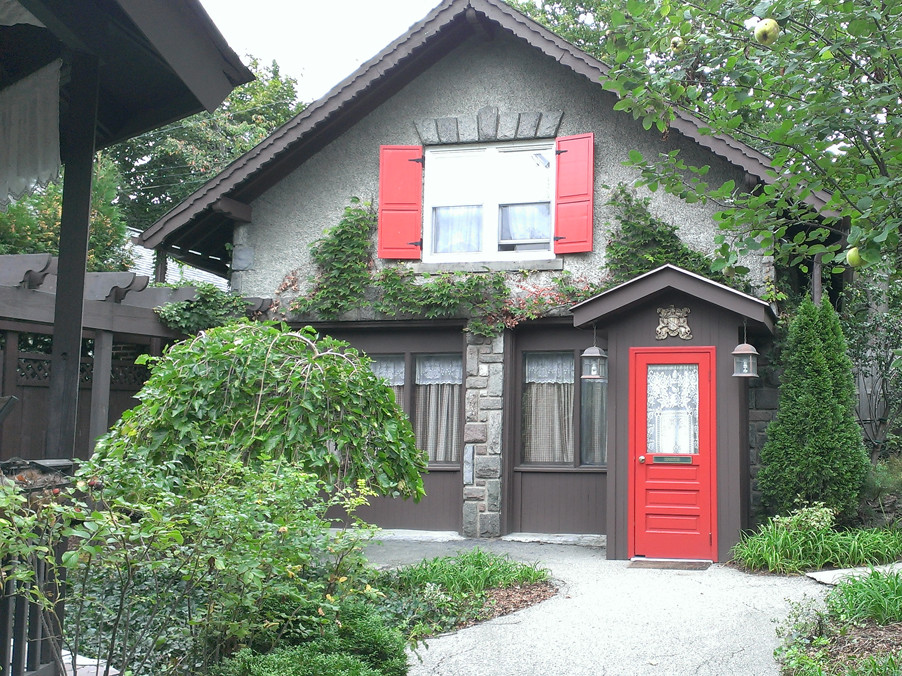 The first floor of the Carriage House is open and configurable for your needs. It is large enough to set up three dining or conference tables and would be nice for a baby shower, brunch, or tea service. You can rent the facility for a small corporate retreat meeting area.
Just outside is the open air gazebo and back garden which can be incorporated into your event. You can host a lovely afternoon party in the gardens and gazebo.
There is a small utility kitchen area on the first floor including two dishwashers, a sink, storage and prep space and a microwave to use for your party. A private bathroom is on the second floor.
Gazebo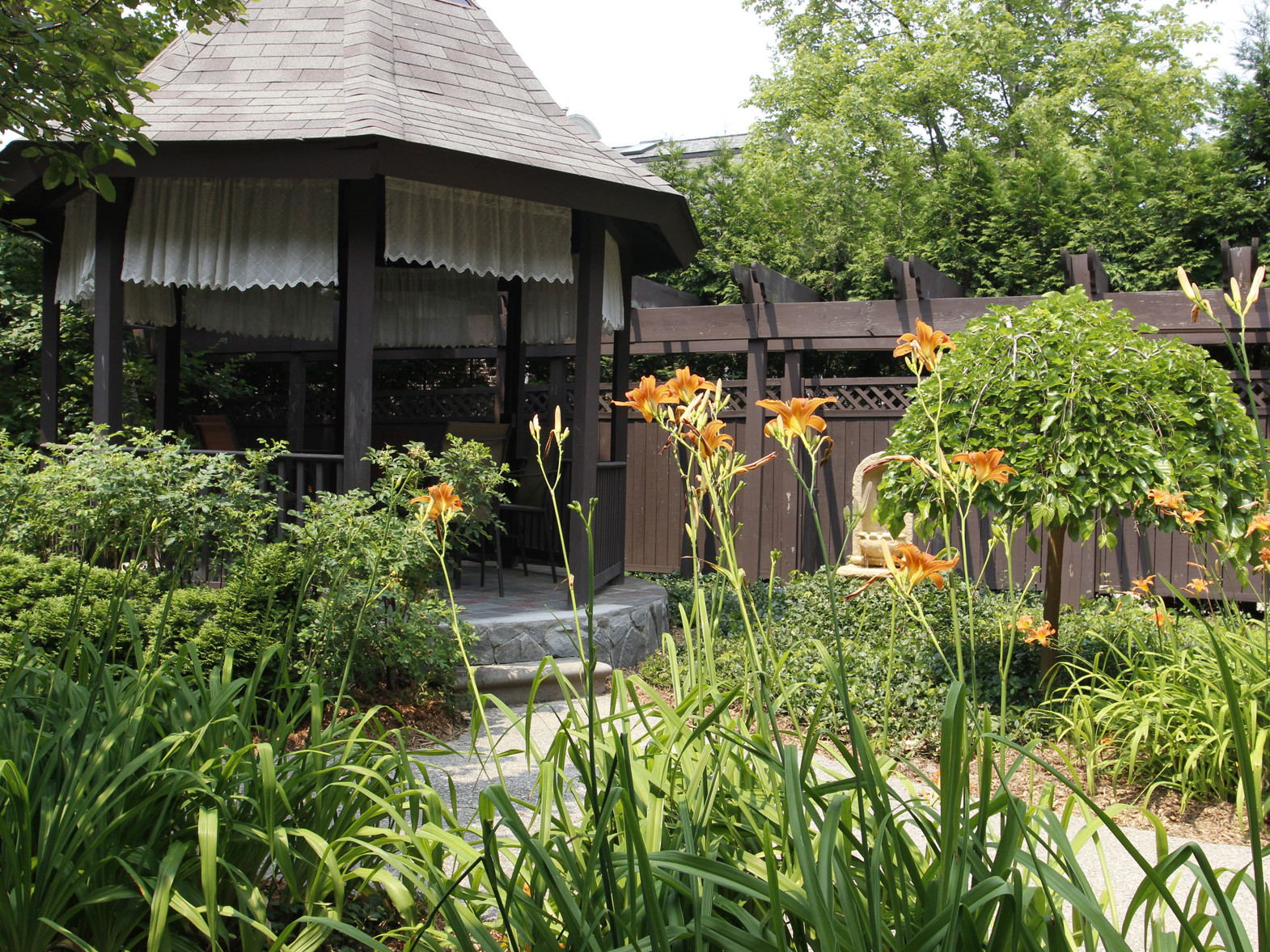 The gazebo is between the Stone Chalet and the Carriage House in the back yard.
Side of Stone Chalet
Next to the Stone chalet on the driveway side of the house is a nice area to set up an outdoor bar or food station and perhaps some tables and chairs.
The Back Yard
In the back yard near the Parsonage is the frog pond and an open area where we have a table and chairs. You may use this area for your backyard party.
Rules
Please read carefully
These are the rules for using this facility for events.
Maximum capacity for any single event is 100 people.
Outdoor activities end at 8:00 pm.
Outdoor music is acoustic only. No amplified music.
Quiet time outside begins at 10:00 pm.
Indoor amplified music, if deemed too loud outside, will need to be turned down especially after 10:00pm.
Guest indoor activities end at 11:00 pm, cleanup crew by midnight.
All food is supplied by a licensed caterer.
Alcohol can be served by a licensed caterer or licensed bartender only.
No alcohol sales of any kind.
No smoking indoors or near doorways or windows.
Please be respectful of the neighbors.
Party insurance is required.
Decorations cannot be taped, glued or nailed. No confetti of any kind.
Candles need to be completely contained to prevent wax dripping.
Table and chair rental for indoor use from Stone Chalet only.
Pricing
Equipment and Pricing Information
For ALL pricing please contact us Directly!
Entire facility rentals that include rooms for two or more days receive special pricing.
---
What's Included
Use of the selected space for allotted time.
Steinway Concert Grand for professional pianist only in Event Hall.
Music system to play your music from your iPhone, Android or computer.
PA system for speeches, etc.
Choir balcony use for photographers, DJs etc.
Coat racks.
Free parking on Berkshire.
Outdoor areas until 8 pm.
Fellowship Room for caterer set up or guest use.
High speed WiFi.
Restroom facilities.
Does Not Include
Table, chair, linen, table service and catering equipment available from Stone Chalet at additional cost.
Wedding official, flowers and decorations, food and beverages, caterer, bartender, servers, valet service, musicians or DJs.
Bringing in Caterer Prepared Food in Serving Trays?
If you are picking up catered food or your caterer is dropping off food and not serving then additional charges will be added for set up, serving and cleanup depending on your situation.
---
Each event is unique. If you are interested in having your event here please send an email with the number of people, date and amount time needed, room count, type of event and we can discuss further.